The First Full Year of Wishful Thinking
December 24, 1998
It's hard to believe that it's been over a year since we left the house in Los Gatos and moved aboard the S/V Wishful Thinking. We made trips to Angel Island, South Beach Harbor, Richmond Marina, Pier 39, Vallejo YC, Golden Gate YC… covering something over 800 miles this year.
Christmas 1997
Our Christmas vacation last year was a whirlwind tour of Ken's old haunts on the East Coast from Washington, D.C. to Newport, RI. As an added bonus, we took Ananke with us. For a cat that has never really travelled before, she did very well! We spent several days with Ken's family celebrating Christmas and Hannukah. There were also stops to visit friends in Philadelphia and Virginia. New Year's Eve was at Paul & Jana's for a marathon Cosmic Encounter game (newcomer Suzy won), followed by champagne and sleep.
January 1998
We started the year with the arrival of all of the parts to repair the engine, including the new exhaust manifold. Unfortunately, it would be a few more weeks before the mechanic could schedule us for the installation. Meanwhile we kept busy staying warm. At the end of the month, we went over to Oakland for the Pineapple Sails anniversary party, where we met a few friends (old and new), including several people who might need crew for their racing boats.
February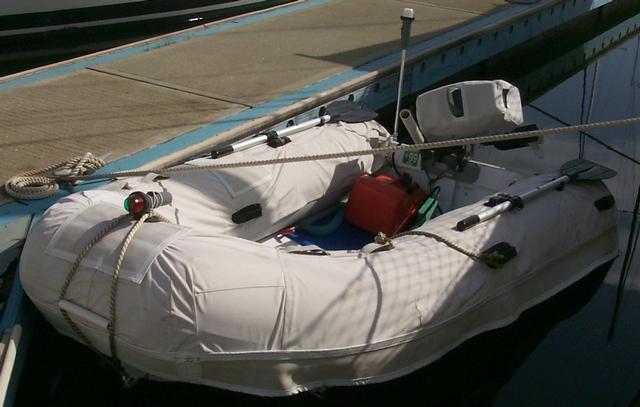 Suzy and I have our birthdays only 5 days apart, so February is our birthday month. February also brought torrential rains and flooding to much of Northern California. This was not the first time that living on a boat had a significant advantage over living on land (or mud), but it was certainly graphic. Being hardy souls, we didn't think it was too much trouble to travel up the Sacramento to buy a used RIB. The seller, and now friend, Jack Chalais, was very nice, and when the wind howled and the rain soaked us (even before the car refused start), he kindly offered to drive the dink down to Redwood City instead of watching us struggling with the beast on top of my sporty, but tiny Toyota Celica.
March
At the end of the month we were at Berkeley Yacht Club for a swap meet. There we meet Ed Shirk who, as it just so happened, was looking to swap slips with someone in Redwood City for a few weeks. We spent 3 weeks "sampling" the marina. We loved it there; so much so that we strongly considered relocating permanently. But after three weeks of a killer commute, we decided that it was not a good idea. On the other hand, we had such a good time at BYC that we joined the club. By the time we were "initiated" into the club, most members thought we were old timers!
The Berkeley Marina has an easy entrance that allows us to enter and dock in the wee hours of the morning if we choose to make a Friday night passage. It's a 4 to 6 hour sail from the South Bay depending on the ebb & flow. That means if we want to participate in any Saturday event, then we better already be there when the sun comes up!
April
In April, SSS had their hands-on seminar at Richmond Yacht Club. We were curious as to how the single-handers did things (since its just one less than double-handing, like us!) and Suzy had some cruising experience to share. The approach into the slip was a bit exciting; even though the wind was flat most of the day, it started to blow on the beam just as we made our way into the fairways. It took a bit of to'ing and fro'ing but we made it in without banging things up. This trip is also where we learned how to turn a rock-climbing harness into a mast climbing rig that doesn't require someone on deck to haul you up.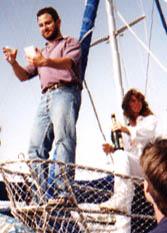 On April 26 we (finally) had the appropriate renaming ceremony for the boat. First we had to remove the old name, then we had to have the de-naming ceremony, then we had to wait for dry, warm weather to put on the new name. Well, you can see how it could take awhile. Anyway, the party was quite enjoyable. There was much food, beer, champagne and rejoicing. Oh, and Ken proposed to Suzy and she said yes!
May
May was a whirlwind! We took a trip to Pier 39 when Ken's parents were visiting – they stayed in a pretty B&B on Russian Hill. Ellen Chang came to visit and we took her along with a bunch of friends on a tour of the Bay. Finally, at the end of the month, KFOG held a Sky Concert just south of the Bay Bridge. We took Bill and Lynn along for the ride from Redwood, met Joy and Mark at Clipper Cove and had a wonderful time. This was also our debut CyberCruise. We gave everyone a good show Sunday morning when we snagged the "infamous" Clipper Cove cable with our anchor.
June
In June, FreeGate had their annual picnic, this year on Angel Island. Chuck Price and I decided that driving to Tiburon, then taking the ferry over was tres cliche compared with sailing there. (Of course Chuck keeps his boat in Ballena Bay, while we still lived in Redwood City at the time.) We got a bit of a late start and didn't arrive until after sunset, but Chuck picked a good mooring and we just rafted up. The next day was a mix of sleeping late, watching the SSS TransPac race start, then renting bikes on the island and then nibbling pate, wine and cheese on deck.
July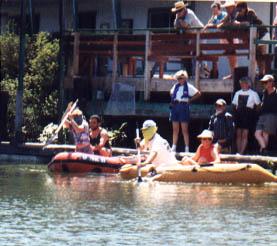 A July 4th "cruise in" took us to Bethel Island in The Delta. Now, that's a long trip even for a long weekend - 16 hrs each way.
One of the best parts of all this is the new friends we've made. Now, when we go to a new marina or gathering of most any kind, we run into boating friends. I think Ken just shook his head in the beginning. I couldn't go anywhere without being recognized by an old cruising friend or simply someone who knew me from the pages of Latitude 38. Today, we are both a presence. Folks recognize Wishful Thinking. Ken gets wonderful complements on both the vessel and his handling of our website. He's been in print himself with a piece in Latitude 38 on YOTREPS, the Pacific Seafarers Net cruiser tracking site which he "hacked" to automatically update. Remember, it isn't what or who you know, it's who knows you.
August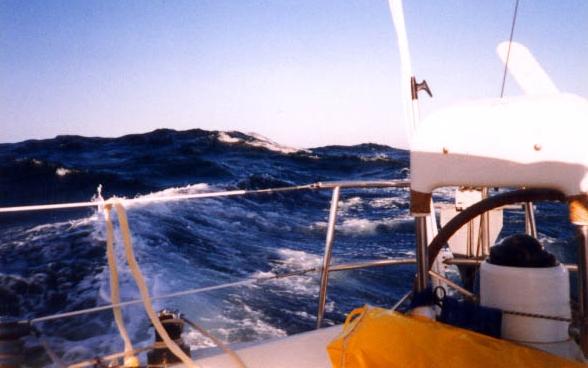 July & August were spent with delivery preparations and the passages from Hawaii back to San Francisco on Compass Rose. Ken spent most of the 26 days glued to the radio. (Suzy wrote a whole piece on the subject.)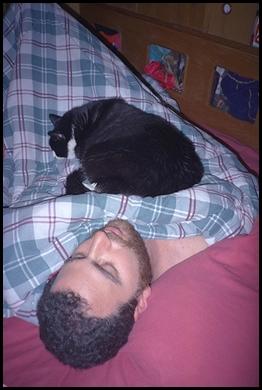 The cat, Ananke, had her share of medical issues to deal with this year. First, in the winter, she had a benign tumor in her thyroid that needed treatment via radioactive iodine. Then, over the summer, we nearly lost her after a problem with the administering of an anesthetic while she was getting an x-ray for an unrelated soft-tissue injury. We think she may have nicked her trachea during the procedure so she started leaking air under her skin. It blew her up like a balloon, hence her new nickname "Blimpo the Cat." The vets took very good care of her (she became somewhat of a celebrity for the size and extent of the "emphysema") during her convalescence and we made the visit down to South San Jose almost every day to check on her progress. It was pretty scary for awhile, but after a few weeks we got her back, with a slightly punk fur-do where they had to shave her.
October
We took a trip to Treasure Island for Fleet Week. Although we had planned on sailing into the Bay to watch the ships and jets go by, TI was the perfect observation point, so we never left the dock. We crashed a wedding, drank some wine, and on our way home, got buzzed by an F-14 on a low fly-over.
November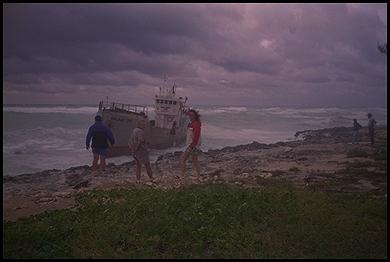 We were aboard the "Blackbeard's" 65 foot live-aboard dive charter boat that took us from Miami to the waters around Bimini for a full week. It was chock full of adventures including a shark dive, a hurricane (Mitch) and a shipwreck!
We never quite managed the camping trip we talked about in August or the visit to Calistoga Springs, but they're still on our list (as is the Kayak trip to Tomales Bay ;-).
December, 1998
Wishful Thinking is all decked out with Christmas lights and this year we also have a nice Christmas Tree. We've placed the strands of lights so that they can remain up while we're sailing! It's extremely cold here (considering this is supposed to be California) with three separate occasions of hard freezes with ice on the docks. It must be time to go south…
Things seemed to have gotten worse at the Peninsula Marina by the time we returned and we were again motivated to move to a marina in Alameda despite the commute. Just yesterday, our "number came up" and we got a fine slip in Marina Village. We'll be moving between Christmas and New Years… right after we recover from a special party being thrown for a friend on the 27th at Berkeley Yacht Club.
January
Ken will be telecommuting part of the time and that will help with commute stress, but the best parts of the move are the close proximity to good sailing and the pleasant marina atmosphere. We'll be docked right next to Oakland Yacht Club and Encinal Yacht Club. The supermarket and other shopping is nearby and there are wonderful paths for walking, biking, and roller-blading. We can take a $5 water taxi ride to Jack London Square and any number of other places. The Ferry is one of the commute options and there's a fine little Blues Bar just down the street. I suspect the thing we'll miss about the marina in Redwood City is it's nearby 12 Cinema Complex. I'll bet we've seen 15 first run movies this year and that's got to be a record.
We've decided to put most of my stories, recipes, and advice into a WebBook. While it will be a work in progress for a good while, it's taking shape more & more each day. It's a labor of love. There'll be lots of related pictures too. You'll have to ask Ken about the "pleasures" associated with Adobe Photo Shop!
Time is moving very very quickly. It's almost scary when you realize that our "cruise date" is considerably less than 2 years away!
Merry Christmas / Happy Hanaka, and Happy New Year!!!
Ken & Suzy & Ananke