Fleet Week at Treasure Island
October 11, 1998
An eventful weekend, that's what we had. It started Friday evening about 6 PM as that was our window of opportunity to escape from the shallows of the marina entrance in the South bay. The winds had been blowing 25+ out of the north since early afternoon so it was going to be wet and splashy, but we really wanted to stay at Treasure Island Marina that night and on to Angel Island early the next morning. So, it was now or never. Wishful Thinking was actually the last of three to leave. Gypsy, a Union 38, left about 5 PM and Dragon Lady, a Cheoy Lee 40, left about 5:30. We gave them a call once we were underway. "Hope you guys are reefed" came their answer. "Reefed" I said, "hell we're motoring!" "We're making fine progress just quartering these seas a bit and heading into the 25+ knots".
When we spoke again sometime later our conditions were a bit better. Theirs were not and they said they were off Coyote Point. We were off SFO. I told Ken "I guess they meant Hunter's Point". As we came under the Bay Bridge on the east side of Treasure Island about 10 PM we spoke again. They were behind us! We'd been happily berthed at the TI Marina for almost an hour before Dragon Lady pulled in. Gypsy was bringing up the rear. (It seems that Darwin on the Dragon had taken the new-to-the-bay folks through all the barges moored north of the San Mateo Bridge. Darwin, that wasn't very nice!) We took the west side of the bay; staying just left of the channel... and literally did in 4 hours what it took the other boats 6 hours to do. Anyway, Gypsy misread the entrance to Treasure Island's Clipper Cove and wound up on the bar. There's no light on the end of the pier, but there are lots of lights just as you come under the bridge. Any hope of decent night vision gets destroyed. We decided to drop our dink in the water and motor out to see if we could help them off. No dice, but we were at least able to take their anchor out a ways.
It's about time I mention Marianne (the Harbor Mistress) and her fiancé, Andy, who just took possession of a Morgan named Soy Libre. They were gracious enough to arrange slips for all three of us boats on short notice. We got a quick tour of their boat about midnight after returning from our rescue attempt. Lots of room and the forward head that has been converted into a workshop! It was about 2 AM when Gypsy got off the mud.
We planned to go on to Ayala Cove, but I got it into my head that we were already in the perfect place to watch the boat parade and Blue Angels show. Over coffee I brought it up. Ken wanted to go on to Ayala, but I convinced him to at least walk over to the sea wall and check out the view. He also brought up the issue of keeping the slip longer than intended. Yep, guess we better check that out too. YES! "What a great spot to watch from!" We get to stay "parked" and avoid the madhouse on the Bay! Gypsy pulled out before we finished our coffee. They were off to Ayala Cove.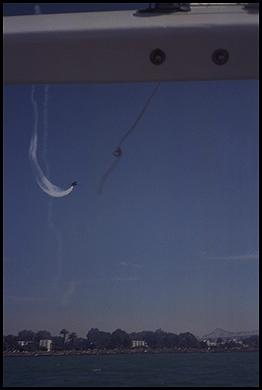 The boat parade started at 11 AM with fireboats, 4 large navy ships, one Canadian Navy ship that looked like a dwarf next to ours, and a shiny white Coast Guard Cutter. A selection of bi-planes and other acrobatic planes provided the pre-Angels show. We watched as we walked the length of the island (we'd never done that before). A large wedding party was setting up in tents along the waterfront. Truckloads of flowers were parked out front and the chairs and orchestra stands were stacked high. We found out later that this was the Dupont/Foss wedding and no expense had been spared. Treasure Island is not so lovingly nicknamed "The Mayor's Island". Access is strictly controlled on normal weekends and booked solid so I hear. Treasure Island was once the home to the Worlds Fair - 1934 I think. There's a poster displayed in the Marina office showing the layout during that spectacle. This weekend, everyone was being allowed to wander along the length of the west side of the island. Parking spots were going for $10 bucks and fast food stands dotted the walkways. The Mayor's Police Force was everywhere (mostly chasing cars off that tried to stop along the sea wall to watch the show).
Here's a trivia question for you... in what movie did a Treasure Island building appear as a wartime Germany airport terminal??? [answer]
By 2 PM, we decided that a nap was in order. The sound of the Blue Angels would surely wake us up for the 3 PM show! That's exactly what happened. The sea wall was indeed a perfect vantage point. A late lunch and another nap (for Ken) while I enjoyed a glass of wine with Mary from Dragon Lady. Ken soon joined us and we told of our plans to crash the wedding later. Actually, we just planned to find a spot outside to listen to the music, but as it turned out....
Having friends in low places is quite a good thing. We went to get Marianne and Andy about the same time that Bob came to get them... John Lee Hooker was also scheduled to play! We had no problem getting inside the secure area and staking out a spot just outside the clear-sided tent. We had a great view of the bay and the back of the orchestra. 11:30 rolled around and the orchestra was still playing. John Lee was wandering back in forth letting folks have their picture taken with him and doing a bit of singing in the street, but we gave up and went to bed before he ever went on stage :-(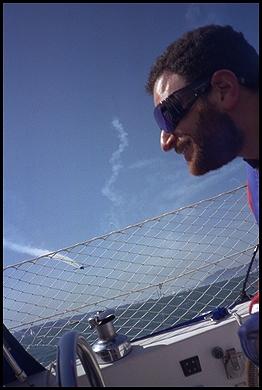 Sunday morning we decided to sleep late and dinghy around the anchorage before the sail back to Redwood. Once again, tides matter! I guess we were underway by 13:00 sailing up around the north end of TI so we could sail south around the east side and enjoy that day's show during the sail. Our timing was great, as the Blue Angels had just started their show. About the time we were directly in front of all the people watching from the TI sea wall, we were overflown by one of the Angels at low altitude. I was snapping pictures like crazy and the cat was curled up in the cockpit. The plane came right at us from over TI a couple hundred feet off the water. Wow! What a rush! Ken was driving and saying things like "Cool", "I can see the vortex", and "OH SH*T" as the jet wash knocked Wishful Thinking on her ear for about 10 seconds. Water was coming into the cockpit over the port side and the cat was doing her best to get back down below where it was safe. It was most exhilarating!!!
No harm done but we called Marianne to say "Did you see that?!??!!!" Indeed she had (along with everyone else that had a ringside seat on TI)! We hadn't planned on becoming part of the show ourselves. I sure hope someone took our picture! Maybe it'll just show up in Lat 38.
Written by:
Suzy O'Keefe
with Ken Mayer
aboard s/v Wishful Thinking
---