Three Bridges
March 16, 1998
Berkeley Yacht Club, California, US
37.9N' 123.3W'
No, I'm not referring to Lloyd, Bo, and Jeff. Three Bridges is one of the claims to fame of the Berkeley Marina in Berkeley, CA. From the Yacht Club, the appropriately placed benches, the Berkeley Pier, and Skates restaurant one can see the Golden Gate, The Bay Bridge, and The Richmond Bridge... not to mention spectacular sunsets! There's also a grand view of The City.
Ken & I are here with Wishful Thinking to meet some of the Berkeley Yacht Club folks and decide if we'd like to apply for membership. Of course, they get the opportunity to decide if they want us as members as well :-) We made an arrangement with a new friend of ours to swap slips for a couple of weeks. He wants to get a jump start on his new job just a few blocks from Peninsula Marina in Redwood, and we want to see what the commute is like to Sunnyvale from THIS side of the bay. A lot loooooonger, we know, but much closer to sailing so it may be worth the extra drive. Only a few weeks of commuting and the odd midnight sail will tell.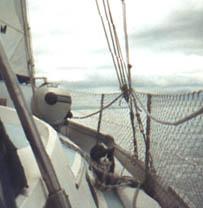 Yesterday, we sailed (uh, motor sailed) against noserlies because of the Hi/Low tide timing at each end of our journey. The furler mechanism decided to be obstinate, so all we had up was the main. That made it a bit wet & splashy and we now know that Ananke (the cat) will not use her litterbox when we lash it on the stern deck! She thought Ken's backpack and his gently-worn pair of Levis served as a fine substitute litter box though. Ooooops.
We also discovered a leak on the port side at the mid-ships stanchion. It didn't leak during all that rain... go figure!
Ken is off at his Advanced Navigation Class this evening, and after a day of misc clean-up and minor repairs, I indulged myself with a long hot dock shower and a glass of Zin on the bench at sunset. Mmmmmmm!
I can't wait for Ken to get home.
Suzy